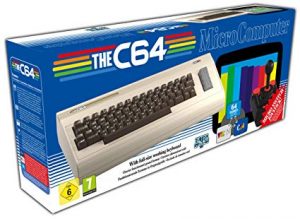 In December 2019 we bought THEC64 Maxi at a local dealer (Media-Markt), manufactured by Retro Games Ltd.. Here's what they say about its description:
The C64 is back, this time full-sized with a working keyboard for the dedicated retro home-computer fan. Featuring three switchable modes – C64, VIC 20, and Games Carousel.

Connect to any modern TV via HDMI for crisp 720p HD visuals, at 60 Hz or 50 Hz. An updated joystick, now featuring micro switches, companions the hardware making the included games even more fun than ever.

The Games Carousel has 64 pre-installed games including classics such as California Games, Paradroid and Boulder Dash, with new additions like Attack of the Mutant Camels, Hover Bovver, Iridis Alpha, and Gridrunner.

Topped off with the recently released shoot 'em up Galencia and text adventure Planet of Death to let you relive the glory days of true keyboard gaming! Plus, THEC64® allows you to load and save your own files and games via USB stick (including multi-disk titles) and program in C64 or VIC 20 BASIC.
It is a great product, it comes very close to the original, it is incredible. It totally builds up the retrospective atmosphere, you can feel the eighties. And what you really won't miss is the slow loading times for games, as THEC64 Maxi loads the programs very quickly. Loading times on the THEC64 Maxi are between 4 and 10 seconds.
We bought this product to support this great idea and its amazing product result. Fantastic ! Besides that, THEC64 Maxi can also simulate the VIC-20 (and this was my very first home computer!) Sooooo amazing.
---
We also started our own remodeling project in January 2020 and bought an Amiga 500 which we are currently completely refreshing with hardware add-ons, case modding, keyboard pimping, … at first glance, these projects are more expensive than expected. We basically could get the hardware itself for a dime, but all the add-on's and hardware replacement cost a fortune. Anyway, we hope to be able to present the final result to you soon. You can also check the following timeline that shows all of our old-school project steps.
Oldschool Project "Amiga 500 – Complete MakeOver" – Codename Dark Rule – Timeline:
---
---