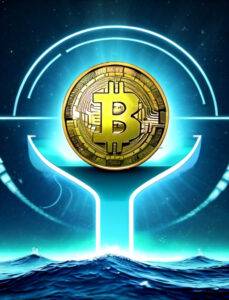 [West Dayton, Middx, United Kingdom, November 3, 2023 — msch — The SiLLC Assembly / crocon media] In a strategic move that underscores the growing importance of proof of stake (PoS) mechanisms in the cryptocurrency landscape, Neptune Digital Assets Corp. has announced the addition of Polkadot (DOT) and Solana (SOL) to its already robust collection of tokens. This expansion is not merely an addition to its portfolio but a calculated step towards solidifying its position in the PoS domain.
Neptune's foray into PoS operations has been marked by a consistent yield of nearly 20 percent from its long-term holding of Cosmos (ATOM), a testament to the company's strategic prowess in the blockchain space. The yields are not sitting idle; they are either enhancing Neptune's Bitcoin balance or further bolstering its PoS operations, demonstrating a savvy reinvestment strategy that could be a harbinger of sustainable growth.
At the heart of Neptune's strategy is its Ethereum (ETH) validator, which plays a pivotal role in transaction processing and block addition to the Ethereum blockchain. This is not just a technical endeavor but a strategic one, positioning Neptune at the nexus of blockchain transactions, which could translate into significant revenue streams.
The company's CEO, Cale Moodie, has expressed confidence in this direction, citing the long-term sustainability and revenue opportunities that come with managing nodes, validators, and other blockchain software. Neptune's growing expertise in this area is a clear signal to investors about the company's potential value.
Moreover, Neptune's active investment in artificial intelligence tokens like Graph (GRT) and Ocean further diversifies its portfolio. With plans to integrate GRT into its PoS revenue stream once it reaches its full potential, Neptune is not just staking tokens; it's strategically positioning itself for the future.
However, the path forward is not without its challenges. The regulatory landscape, particularly in the United States, has been fraught with uncertainty. SEC Chair Gary Gensler's stance on treating PoS tokens as securities has sparked a debate that has yet to be settled, contrasting with the more accommodating stance of Canadian regulators.
Despite the regulatory headwinds, Neptune's proactive approach and diversified investments in the PoS space suggest a bullish outlook for the company. As the regulatory climate evolves, Neptune's strategic positioning could well make it a promising crypto play with the potential for an excellent return on investment.
************************
************************
Disclaimer
All transactions are carried out by SiLLC, a private portfolio management assembly. This document is not an offer of securities for sale or investment advisory services. This document contains general information only and is not intended to provide general or specific investment advice. Past performance is not a reliable indicator of future results and targets are not guaranteed. Certain statements and forecasted data are based on current expectations, current market and economic conditions, estimates, projections, opinions, and beliefs of SiLLC and/or its members. Due to various risks and uncertainties, actual results may differ materially from those reflected or contemplated in such forward-looking statements or in any of the case studies or forecasts. All references to SiLLC's advisory activities relate to The SiLLC Assembly International.
The author(s) of this article may or may not hold a position in the mentioned stock. None of the companies discussed in the above article have paid for this content. The information provided in this article should not be considered financial advice, and readers should always do their own research before making investment decisions. However, as with any investment, there are potential risks and uncertainties to consider, such as potential regulatory changes, market volatility, and competition from other players in the industry. It is important for investors to carefully monitor this stock and its performance over time to make informed decisions about their investments. This site is for entertainment purposes only. The owner of this site is not an investment advisor, financial planner, nor legal or tax professional and articles here are of an opinion and general nature and should not be relied upon for individual circumstances.
This article is for informational purposes only and should not be considered financial advice. Investing in stocks involves risk, and readers should conduct their own research and consult with a qualified financial advisor before making any investment decisions.